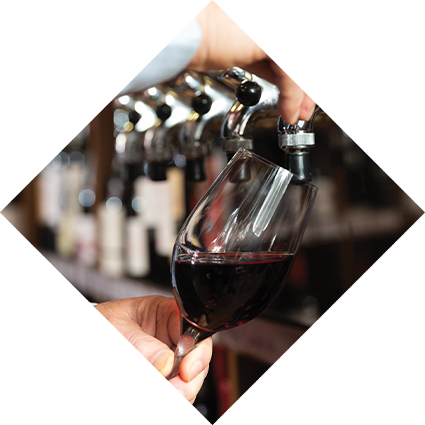 Did you know that an open bottle of wine goes bad within 24 to 48 hours, and that your bartender is pouring it down the drain? That's because your customer sent it back, it tasted bitter and it's oxidized. How many mishandled bottles go broken, or even go missing? How about service, how long does it take your bartender to open a bottle while you have a full bar waiting for drinks. Or the empty bottles and cardboard that you must throw away every night? That's thousands of dollars annually down the drain!
NO OXIDATION OR
CONSISTENCY CONCERNS
The longer a bottle of wine is open, the more the wine shifts from its original flavor profile, inching toward the flat, acetic notes of oxidation. Even if you're able to salvage the wine before it becomes oxidized, the shifting flavor means that pours vary from one night to the next. For venues that prize consistency, wine on tap is the game changer.
SMOOTHER
DAILY OPERATIONS
From a logistical standpoint, it's hard to argue with the appeal of wine on tap - it just makes day-to-day operations easier. Stocking, storing, and discarding bottles may seem like insignificant tasks, but they add up. When that work is eliminated, time is freed up for more important things - like providing excellent service.
REDUCED
CARBON FOOTPRINT
Glass can be difficult and expensive to recycle, and a high-volume bar restaurant goes through tons of bottles every year, most of which end up in landfills. Opting for kegs stops this waste. Even at the individual venue level, the savings can be substantial. We're talking about millions of bottles ending up in landfills.
WHAT OUR
CUSTOMERS ARE SAYING